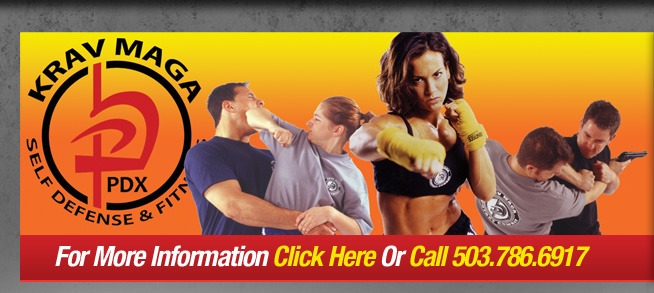 Krav Maga Self Defense & Fitness in Portland, Oregon is the place to be for practical, reality-based self defense and high intensity, functional fitness training. We have been teaching Krav Maga, the official hand to hand combat system of the Israeli Defense Forces and many Law Enforcement agencies in the U.S. and around the world, since 2003 in the greater Portland area. We have an experienced team of 14 patient and professional instructors, trained and certified by Krav Maga Worldwide, the first and largest Krav Maga association in the U.S.

Locally, Krav Maga Self Defense & Fitness has been instrumental in the adoption of Krav Maga as the official defensive tactics system of the Clackamas County Sheriff's Office, the Canby, Woodburn, and Gresham Police Departments, Portland TriMet and the Oregon Dept. of Corrections.

Krav Maga techniques were developed and tested on real battlefields. They were designed to work, for men and women, large or small, young or old. The tactics are proven to quickly eliminate threats and keep you out of harm's way. The moves are simple to perform because they were designed to work powerfully with your body's natural instincts. This makes Krav Maga easier to master, even for a novice. With Krav Maga you will become physically fit and gain the peace of mind that comes from not being afraid.

Our students learn how to protect themselves and their loved ones against violence, or as they like to say - "to kick ass and get in the best shape of my life!" They learn to be confident, not-to-be-messed-with individuals. They have fun and meet new friends, learning Krav Maga and working out in a cooperative, safe, often intense and always motivating environment. We welcome you to join us today!





Wanna know the best way to
get started?

Just fill in and submit the
Start Now
form above

You will get
Instant Access
to your

1) FREE REPORT:
10 Fat-Fighting Fitness
& Self Defense Tips

2) CLASS SCHEDULES
Beginner classes 7 days a week
for Krav Maga and Fitness

3) WEB SPECIAL
3 classes for only $19.99

Get it all and get started now!



Krav Maga Self Defense & Fitness
presents

GROUND FIGHTING SEMINAR
- KRAV STYLE




Saturday, June 13, 2015
1:30 – 5:30pm

Wrist/arm control and pummeling,
clinch work and angling, transitioning to the ground, dynamic ground positions and awkward angles, body positioning and movement response, and
aggressive weight control.
We will work some new Krav Maga bridge material and foundational Krav grappling, but mostly we will focus on movement and drills you have never seen before with injections of Greco-Roman wrestling, Judo, and Jiu Jitsu concepts, while keeping it all very strictly to the Krav Maga principles of street fighting.

Don't miss this exciting day learning insights that can fundamentally change your groundfighting. The skill level is beginner to intermediate.

Only $50 per person for this 4 hour seminar!

Open to members and non-members

Click Here to Register Today!

www.kravmagaportland.com
(503) 786-6917